This simple recipe for Rosemary and Peppermint Foot Scrub ticks every box. It is super quick, super easy and super cheap to make. In fact, you probably already have all the ingredients you will need at home.
Peppermint foot scrub is both cooling and invigorating making it a real treat that will be appreciated and used. After all, everyone's feet benefit from a little tender loving care, and if you do know someone with perfect feet, you can be sure they are spending plenty of time (and money) keeping them in that condition!
For us, here in the UK, we are almost at the end of the school year. Consequently, I have a to-do list as long as my arm, and included on that list is the Teachers appreciation gifts. I'm sure everyone has different thoughts on these gifts, but mine are as follows; I don't want to spend a load of money. It's the kids who should be putting the majority of the effort into making them. And of course, I want them to look gorgeous, and for the teachers to feel fabulously appreciated! Our peppermint foot scrub meets all these requirements, and the basic recipe can be used to make any scrub you can think of.
This recipe is endlessly adaptable. You can use Epsom salts, sea salt, sugar or a mix. You can use any number of oils and fragrances, and you can add in dried herbs or fresh. I imagine our teacher's feet to be both hot and tired at this time of year, so have chosen something that I hope to be relaxing, refreshing and restorative! If you would like some inspiration on herbs to use in your scrubs check out our 21 botanicals that are fabulous for your skin.
What we used to make our Rosemary and Peppermint Foot Scrub.
About 1 Tablespoon Chopped Fresh Rosemary
For our Rosemary and Peppermint foot scrub, we used coconut oil which was solid as we keep in our fridge, so we gently melted it. You could also use Olive or Almond Oil, and if you wanted, add in a little Shea or Cocoa Butter.
We added the Peppermint essential oil to the cooled, liquid oil. Due to their concentration, Essential oils should never be applied straight to the skin, but instead added to a carrier oil as we are doing here. When making home-made cosmetics, always ensure you list all the ingredients with your gift, as not all essential oils, or indeed other products are suitable for all recipients.
Just throw in the rest of the ingredients. How dry or oily you make your scrub is a matter of your own personal preference. As this is going to be a peppermint foot scrub, I think it's nice to have it quite wet with oil to really encourage the user to massage it in thoroughly. Give everything a thorough mix, and spoon into pretty little jars. Then decorate with a pretty gift tag and ribbon.
Once you realise quite how simple scrubs are to make, you'll be gifting them to everyone! We customise ours to the recipient. Last weekend we made a body scrub for a favourite, very elegant aunt. We used half Epsom Salts and half Demerara sugar to give us a lovely golden base and added a beautiful black cardamom scent!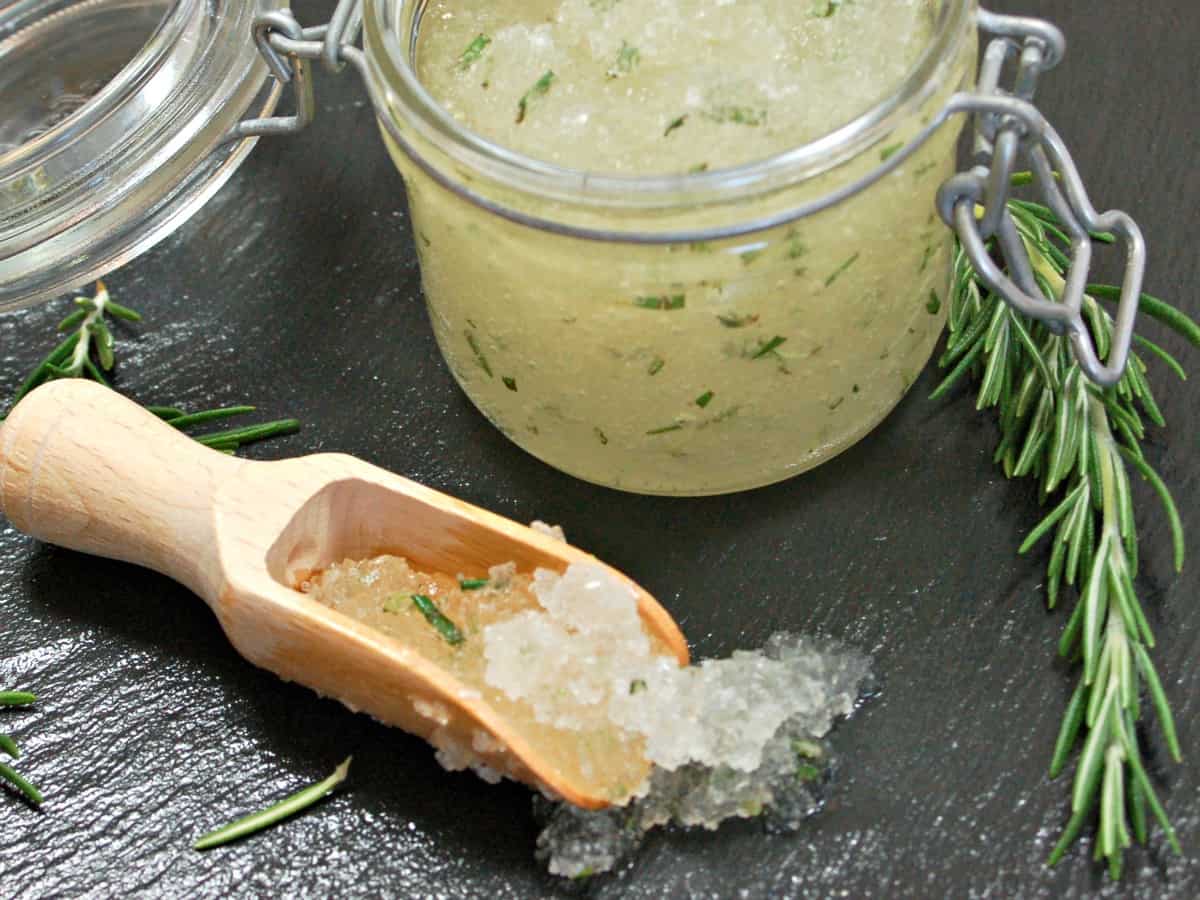 For some more home-made bath goodies that also make fabulous gifts, please check out our Herbal Bath Tea Bags and our Home-made Bath Fizzes.
If you have enjoyed this tutorial on how to make Rosemary and Peppermint Foot Scrub, please share so others can enjoy it too.