DIY Mulling Spice Bags make a lovely, thoughtful gift, and can be adapted to suit the taste of the recipient.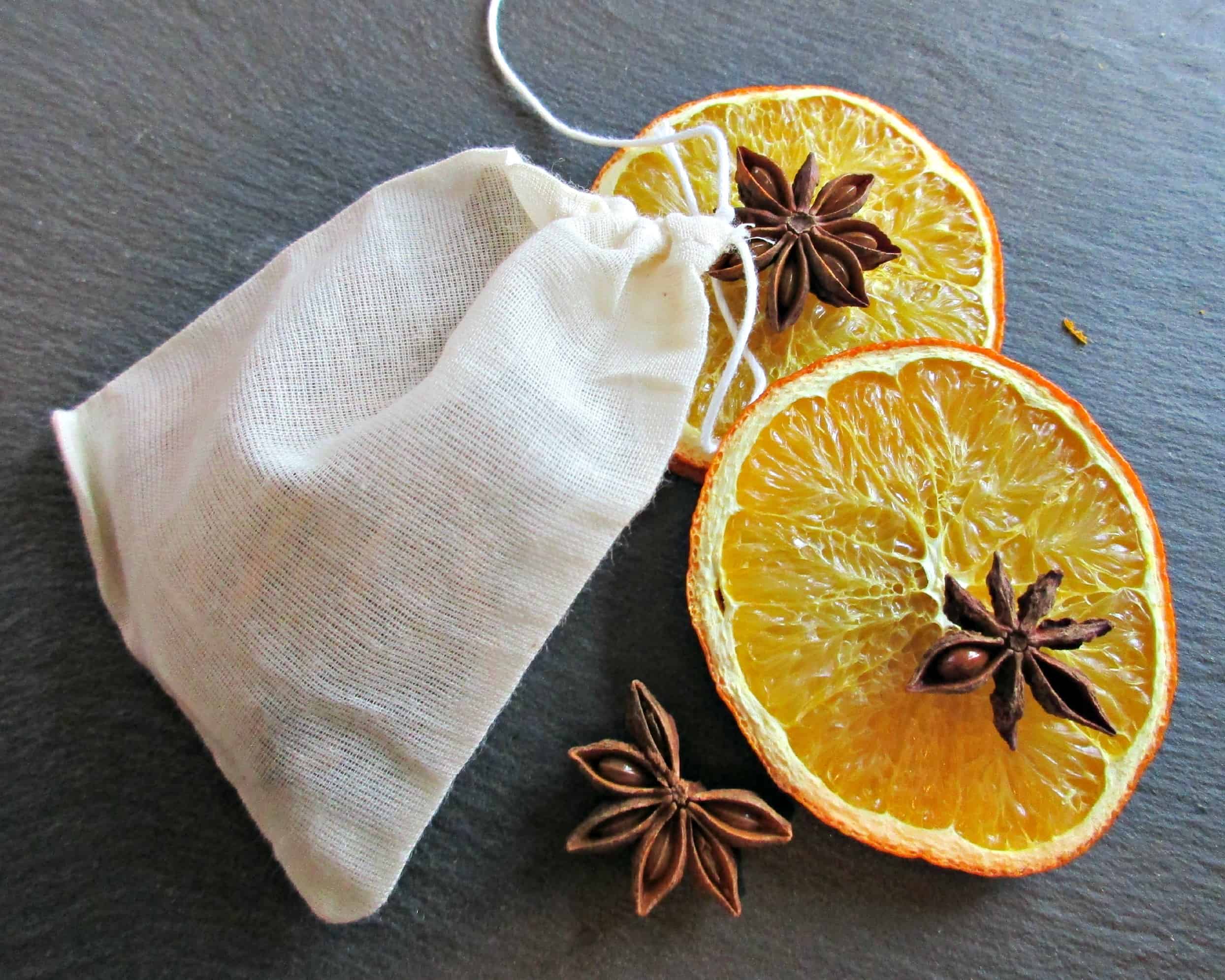 Mulling is the process of heating wine or beer with added sugar and spices as a warming, fragrant drink. Traditionally served in winter, mulled drinks can take both alcoholic and non-alcoholic forms. Any edible, dry herbs, spices and flowers can be added. We have gone for Warming Christmas flavours, but combinations such as Mint and Chamomile, or Rosehip and Orange are equally delightful.
A word of caution. Many herbs have medicinal properties and may not be suitable for everyone. Sticking to flavour combinations that are commonplace, for example, ones you might see in the supermarket, would be my suggestion unless you are knowledgeable in the use of dried herbs. I also recommend that you provide an ingredient list with any homemade items that you give away as gifts. That way the recipient can make an informed choice to whether or not it is suitable for them.
Just pop all of the spices into a Muslin Bag and tied it securely. Alternatively, you can tie everything up in a piece of muslin and tie with some kitchen string (bear in mind the blue string soup in Bridget Jone's Diary!) If giving as a gift, add a pretty tag with a recipe written on it.
Add it to a litre of Apple Juice and heat it slowly, leaving to infuse for an hour or so for the flavours to develop well. Serve piping hot. This makes a lovely warming drink for both kids and adults, and can, of course, be adapted to taste.
In the US, apple juice is called cider, and what we refer to here in the UK as cider, would be hard cider. Happily, both would work equally well in this recipe. We used our own dried orange rind for this recipe, you can find the instructions in our Drying Orange Slices and Peel tutorial. Our Spiced apple juice is also rather yummy with the addition of a tot of Rum, I am sure many other additions would work equally as well