You will not believe how easy it is to make this Stunning Woodland Table Decoration. Made from an old barbecue grill, cardboard and glue and then decorated with candles, twinkly lights and lots of natural elements, we think it is the perfect centrepiece for Christmas or any other celebration.
Disclosure: I am delighted to be working with Bostik as a Bostik Blogger. Each month the Bostik Bloggers create a craft that our readers can easily re-create at home.
What we used to make our Woodland Table Decoration.

• Old Barbecue Grill
• Cardboard
• A string of battery LED Lights
• 3 Candles
• Bostik All Purpose Glue (Amazon affiliate link)
• Bostik White Glu (Amazon affiliate link)
• Wire
• A selection of Natural Materials (Twigs, Pinecones etc.)
• Glitter and Epsom Salts
How we made the base of our Woodland Table Decoration.
We wanted our woodland centrepiece to sit above the table top so built it on top of an old, rusty barbecue grill.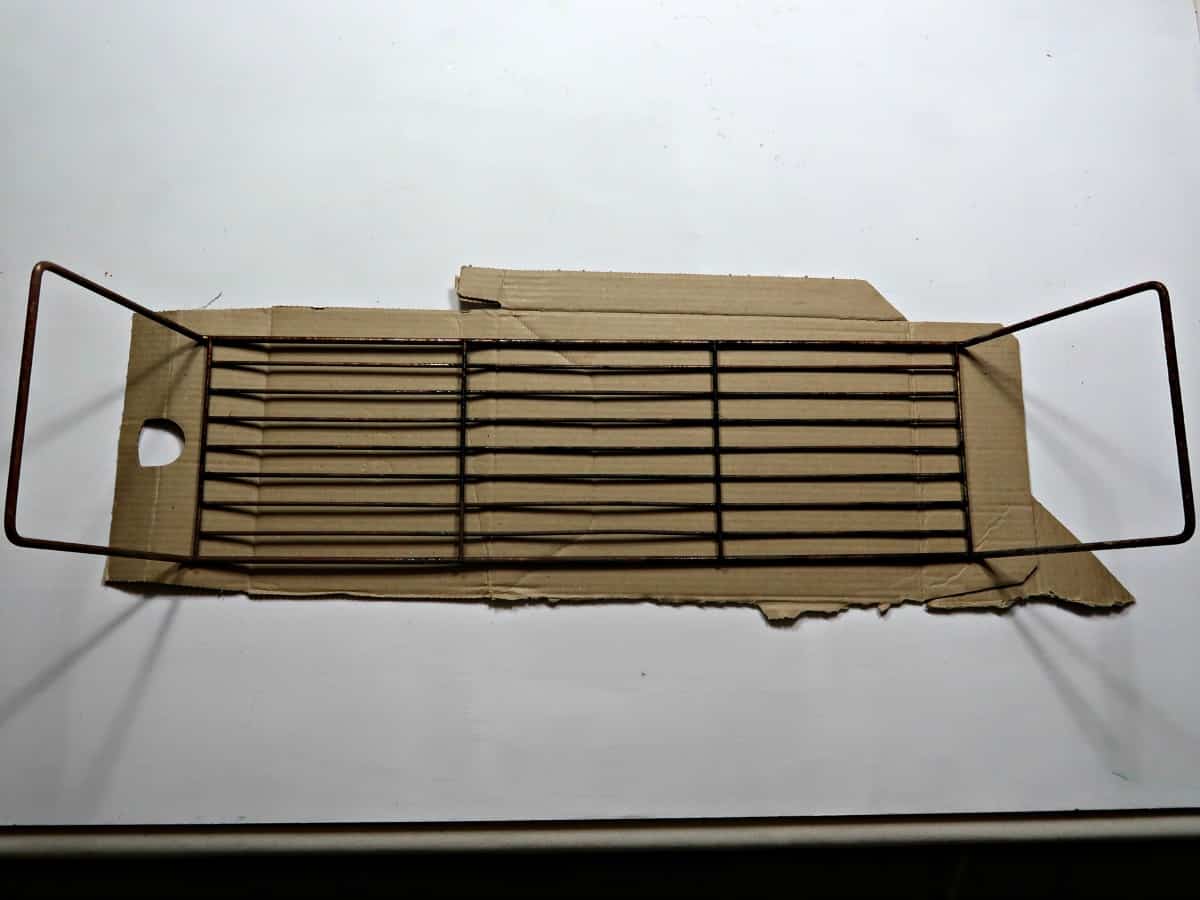 I started by cutting out a piece of cardboard to fit on top of the grill to form a level platform.

Before glueing in place, I also cut out two notches to thread the lights through.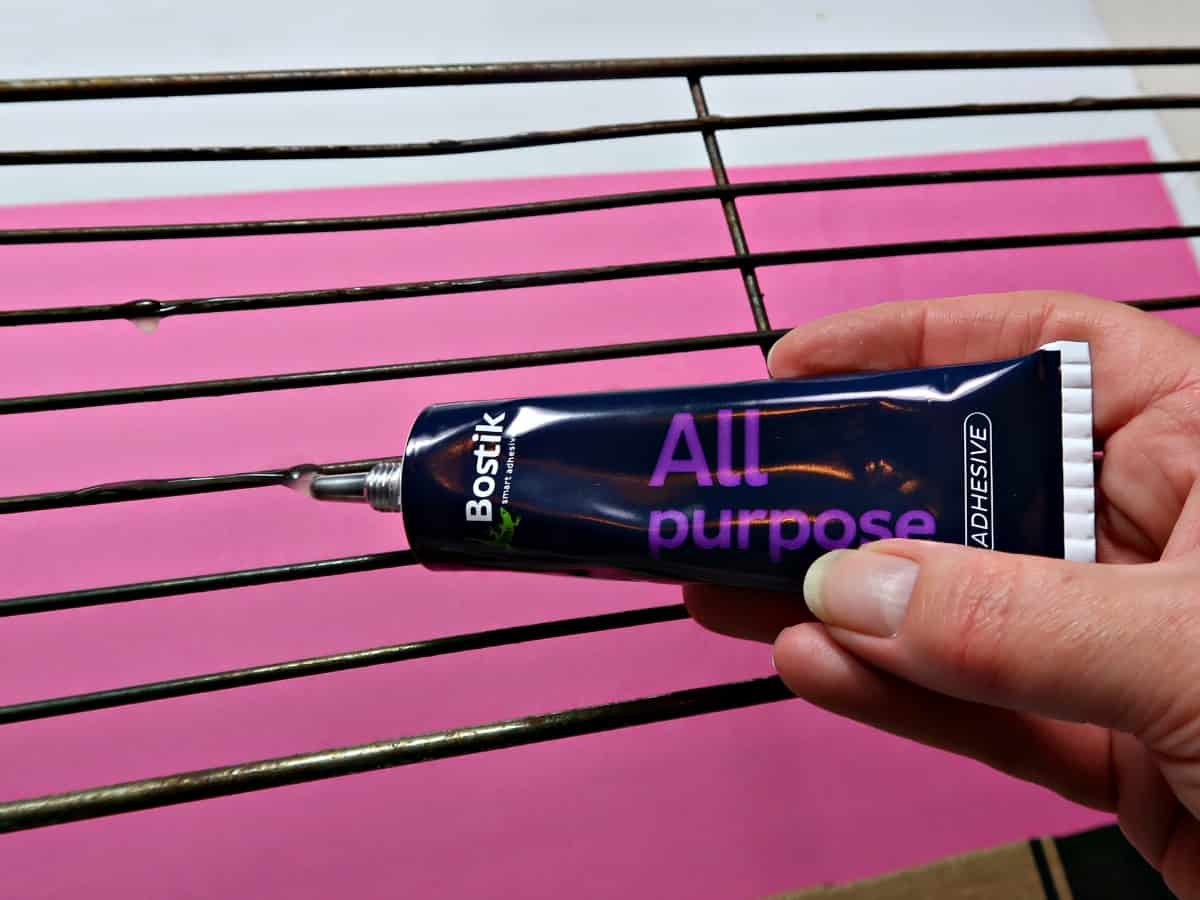 I used Bostik All Purpose Glue to bond the cardboard to the wire grill. It is a clear, extra strong and quick drying glue that will bond a considerable variety of materials. The list includes metals, wood, glass, china, leather, felt, canvas, paper and cardboard as well as many plastics and fabrics. Its quick bonding properties are brilliant for crafts where you don't want to be messing around trying to hold things in place.
We glued 3 upside down lids onto the cardboard. These will hold our candles in place.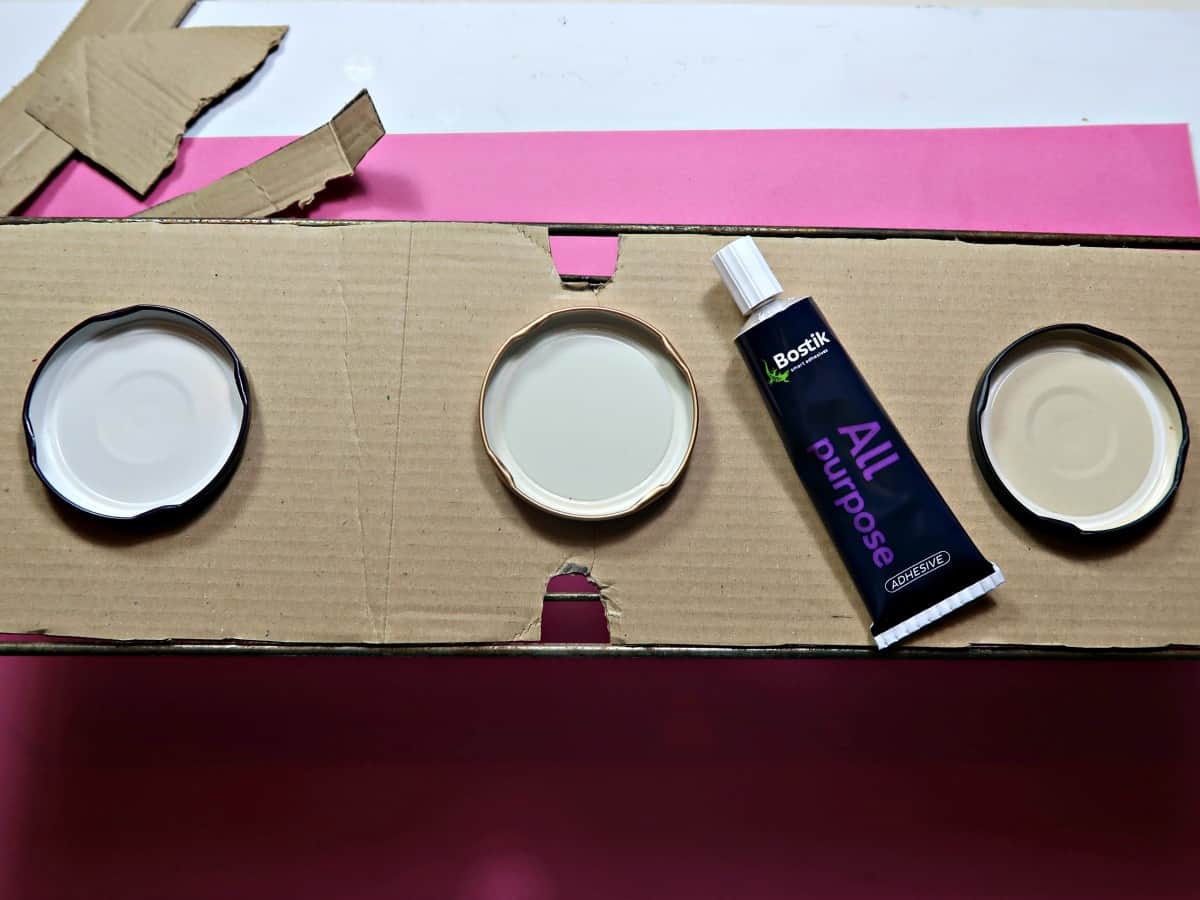 We gave the cardboard a quick coat of black paint and left it to dry. While our frame was drying, we turned our attention to the natural materials that we would be using for our table decoration.
We went out and collected lots of pretty lichen and moss covered sticks for our woodland themed centrepiece. To those, we added some dried pine-cones, acorns and other natural finds that we collected in the autumn.
How to add sparkle to a Woodland Table Decoration
As well as having twinkly lights on our arrangement we wanted it to have some extra sparkle. We achieved this by adding some glittery and crystal accents to some of our natural elements using glitter and Epsom salts.
We used Bostik White Glu to adhere the sparkle to our woodland table Decoration. Bostik White Glu is a general purpose, solvent-free adhesive. It has been specially developed to provide superior performance for arts and crafts projects. It offers excellent adhesion to porous materials such as fabric, leather, paper, textiles, wood, cardboard and felt, so is perfect for using on our natural elements.
As well as being ready to use straight from the bottle, Bostik White Glu is also ideal to water down for crafts such as paper mache and decoupage and when applying detail such as glitter as we are doing here.
We diluted our white glue with roughly the same amount of water to glue and painted it on to the tips of our pine cones and the inside of our seed heads. We then either dipped the gluey edges into our sparkly embellishments or sprinkled them on depending on the individual object.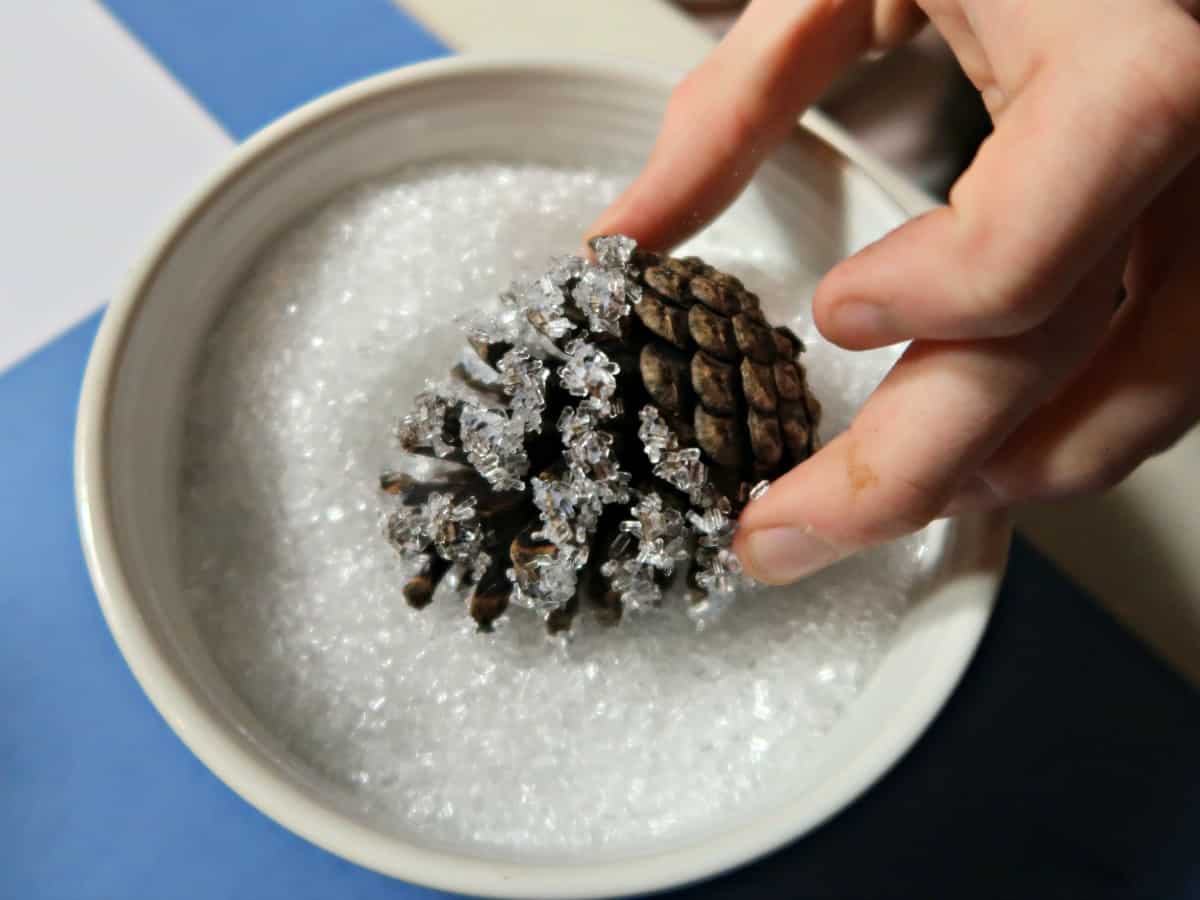 We then set them aside to dry.

How we assembled our Woodland Table Decoration
The final stage was to assemble our woodland table decoration. To start, we attached the battery pack for our lights to the underside of the grill using string. We then threaded the lights through one of the notches and wound about half the length around the base.
We used wire to secure our two biggest sticks to the edge of the grill for extra stability.
Then glued our candles in place using the Bostik All Purpose glue to ensure they were really stable.
We added the rest of our twigs using the Bostik All Purpose glue to secure them to either the card or each other. And did the same with our pine cones and other natural materials.
As we worked, we incorporated the rest of the lights.
And here is our finished Woodland Table Decoration. It looks even better than we imagined and we can't wait to see it on our table over Christmas.
And this is how it looks when the lights go down. I'm not sure if I'll ever light the candles, but please do remember that you should never leave an arrangement like this unattended if you do.
If we've inspired you to make your own woodland themed decorations you might also want to check out our Beautiful Twig Chandelier and our Chicken Wire and Moss Toadstool.