This recipe for nettle fruit leather is one of my own concoctions. The idea came to me while pondering on what I could do with the nettle residue you are left with, when making Stinging Nettle Cordial. That recipe uses 200g of Nettles, and once they have steeped you discard them, which seems such a waste, so I got my thinking cap on and this is what I came up with!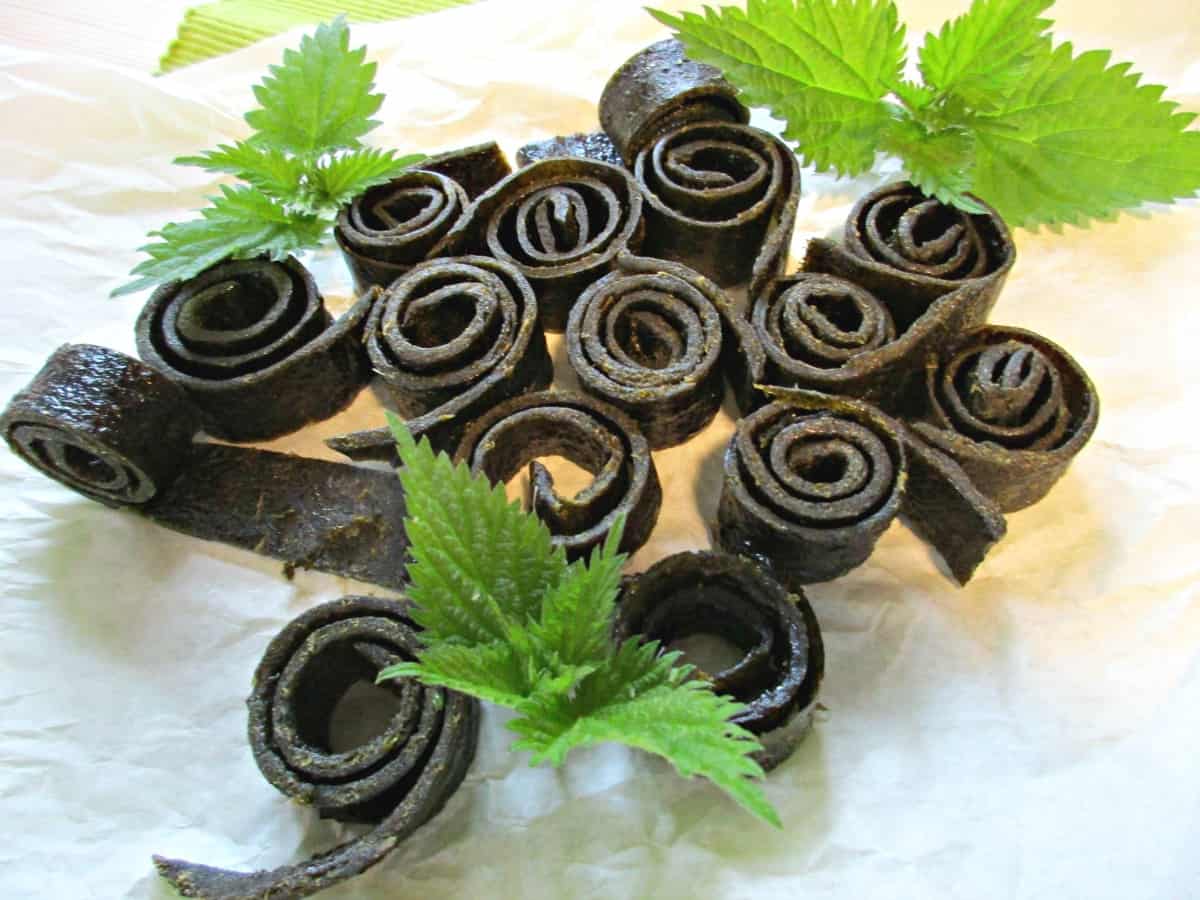 My kids absolutely love fruit leather, we make it often and have shared recipes with you in the past – both in a traditional snack form with our Apple and Plum Fruit Leather, and also in the slightly grosser guise of Edible Fruit Scabs. It really is an easy, healthy snack to make, and vastly superior to the over-priced shop bought varieties.
What we used for our Nettle Fruit Leather
The leftover strained nettles from our Nettle Cordial (which was originally 200g of nettle tops)
4 large Bramley Apples
4 Large Pears
300mls Water
The cordial that the nettle residue came from contained citric acid. If I was making the leather with fresh nettles, and there's no reason why you shouldn't, I would probably add the juice of a lemon. The cordial also had a very high sugar content, so I felt our puree was sweet enough, but the nettle fruit leather can easily be sweetened to taste.
Wash, core and cut your fruit into chunks. I didn't bother peeling ours on this occasion. Add the nettles and water and cook until soft, then puree the mixture with a handheld blender. If you want to add sugar, honey or another sweetener to taste do it now.
I use food wrap to line my trays as I find the finished leather peels off much more easily than with paper. Pour the puree on to the sheet and stick it into a cool oven set as low as you can – you are aiming to dry it, not cook it. It can take anything from about 8hrs to about 16hrs to totally dry out – I gave ours about 6 hours in the bottom of our Aga, then left it out overnight, covered with a mesh food cover, to finish drying.
As you can see from the pictures, this leather has a very rustic appearance. I was slightly concerned that the kids would take one look at it and refuse to try it, but they absolutely love it. In fact, I am having to be careful that they don't eat too much of it in one sitting, bearing in mind that nettles are a new addition to their diet!
I would love to know what you think of our recipe, and whether it's something you will be trying. Nettles are hugely nutritious, with all sorts of health benefits, so I am delighted to have come up with a recipe for them, which the kids are so keen to eat. If you are looking for more inspiring recipes for nettles that kids will love why not try our Stinging Nettle Crisps.