In this simple tutorial we show you how to weave a beautiful, rustic willow wreath with sticks from our Weeping Willow tree.
The resulting willow ring can be displayed as it is, used as a wreath base or even turned into a gorgeous willow flower crown.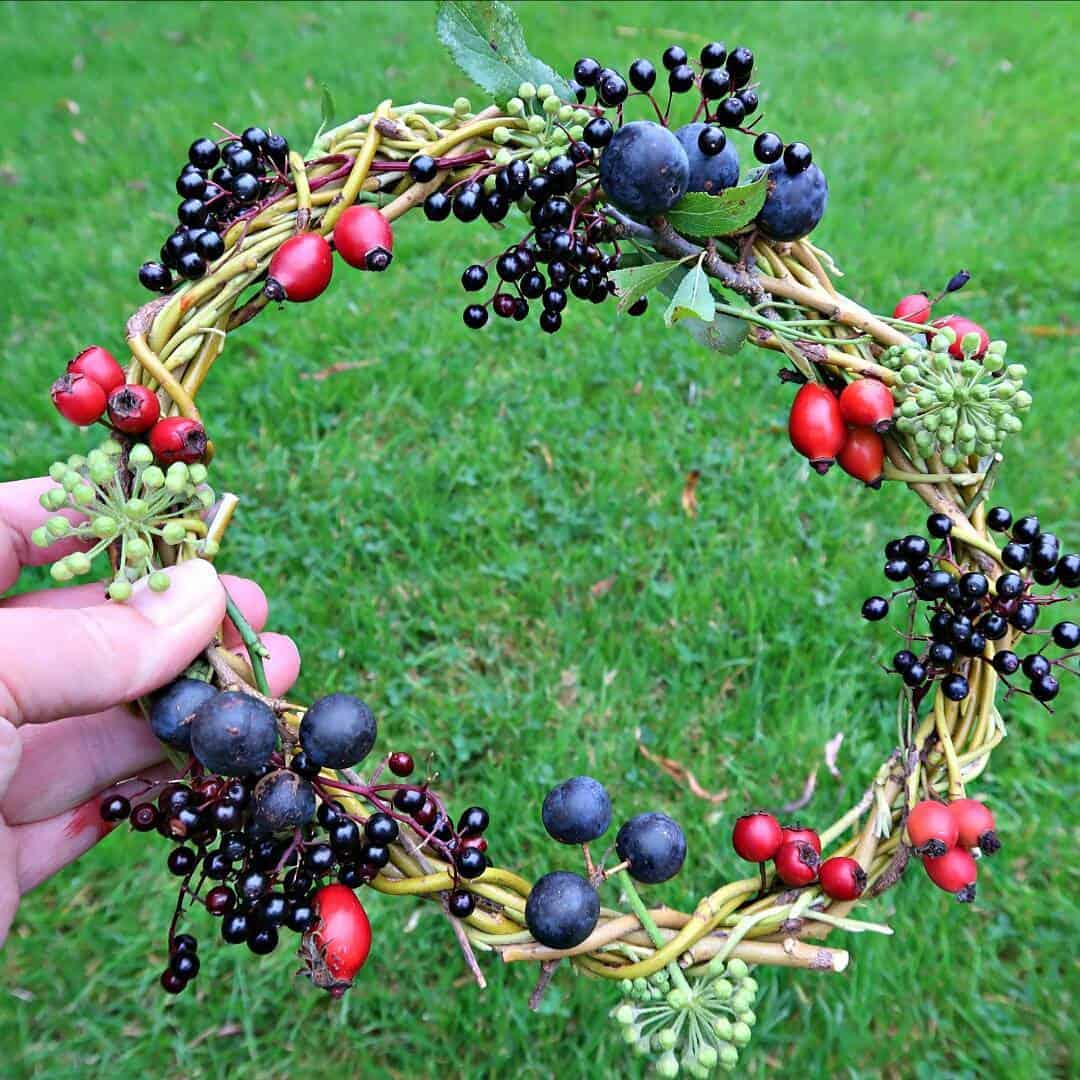 What do you need to make a willow wreath?
All you need to make a willow wreath is a dozen freshly cut, slender willow whips and a pair of Secateurs. We've got weeping willow trees in our garden so we use them. Standard willow works just the same. If it is dried make sure you soak it first of the stems may split.

What else can I weave a natural wreath out of?
There are lots of natural materials that lend themselves to weaving wreaths. Trying shaping twigs and vines into a hoop shape as shown in the instructions below. If the material is supple enough to bend into a hoop you are good to go.
Here are a few ideas to get you started.
Flexible Twigs such as Dogwood, Hazel, Cotoneaster, Beech and winter-flowering jasmine.
Roots
Stems such as brambles and Raspberry
Vines. Grapevine, Clematis and Ivy all make wonderful wreaths
How to Make a Willow Wreath
We started by cutting lengths of this year's growth from our Weeping Willow. You can see from the photos that the bark is still a wonderful mix of yellow and green. It's worth bearing in mind that all plants are much more flexible during their growing period when they are full of sap.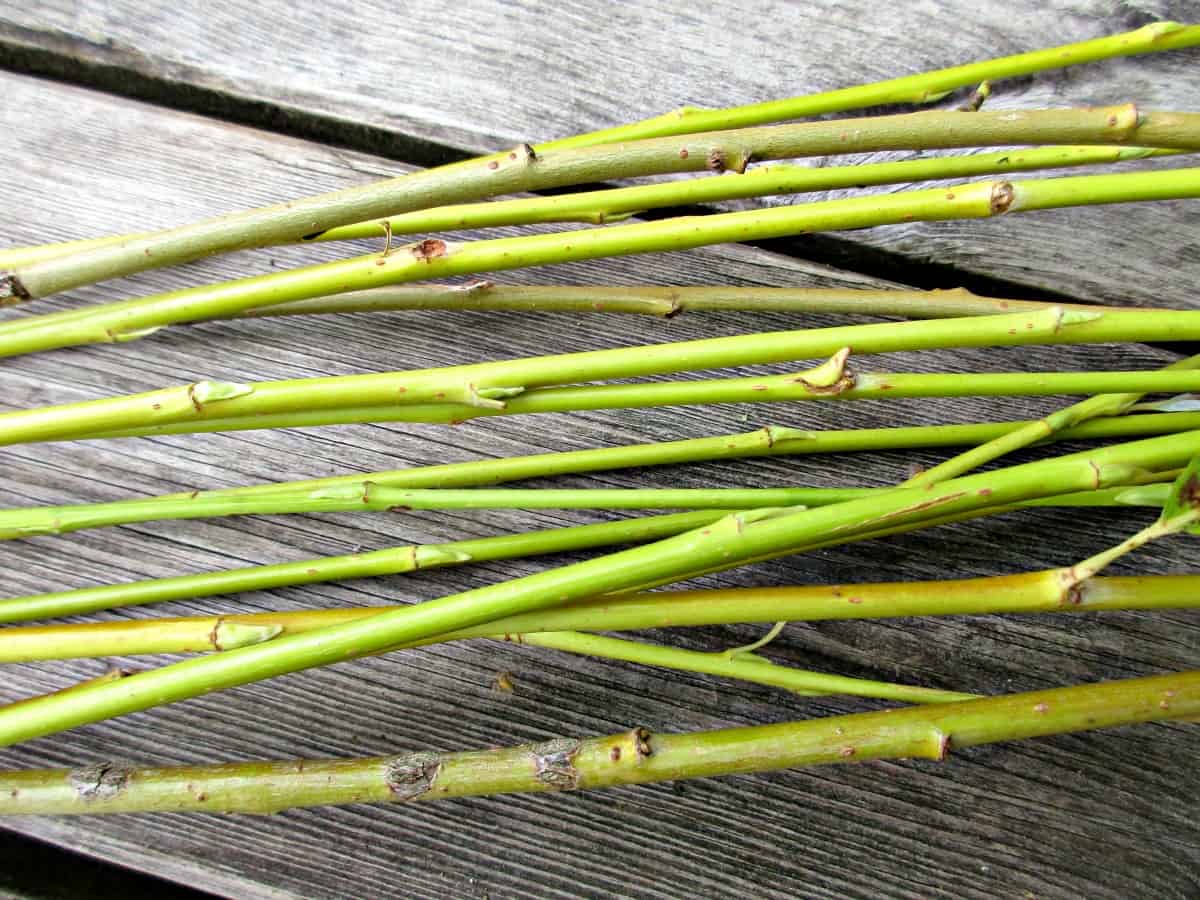 We stripped the leaves from the willow stems, leaving us with lengths that were approximately 1 – 1.5m long. These young willow sticks are very pliable which makes them perfect for weaving. Earlier in the year we cut some to make these rustic willow balls, which we used as bird feeders.
Weaving a willow wreath is very simple.
Start with the thicker sticks, and finish with the thinner.
Take the first stick and weave it into a rustic hoop the diameter you want your wreath to be. Leave the tail piece from where you started sticking out of your ring (as shown in the photo below).
Add the second stick to the ring a quarter turn away from the first. Again, leave the tail sticking out for the time being.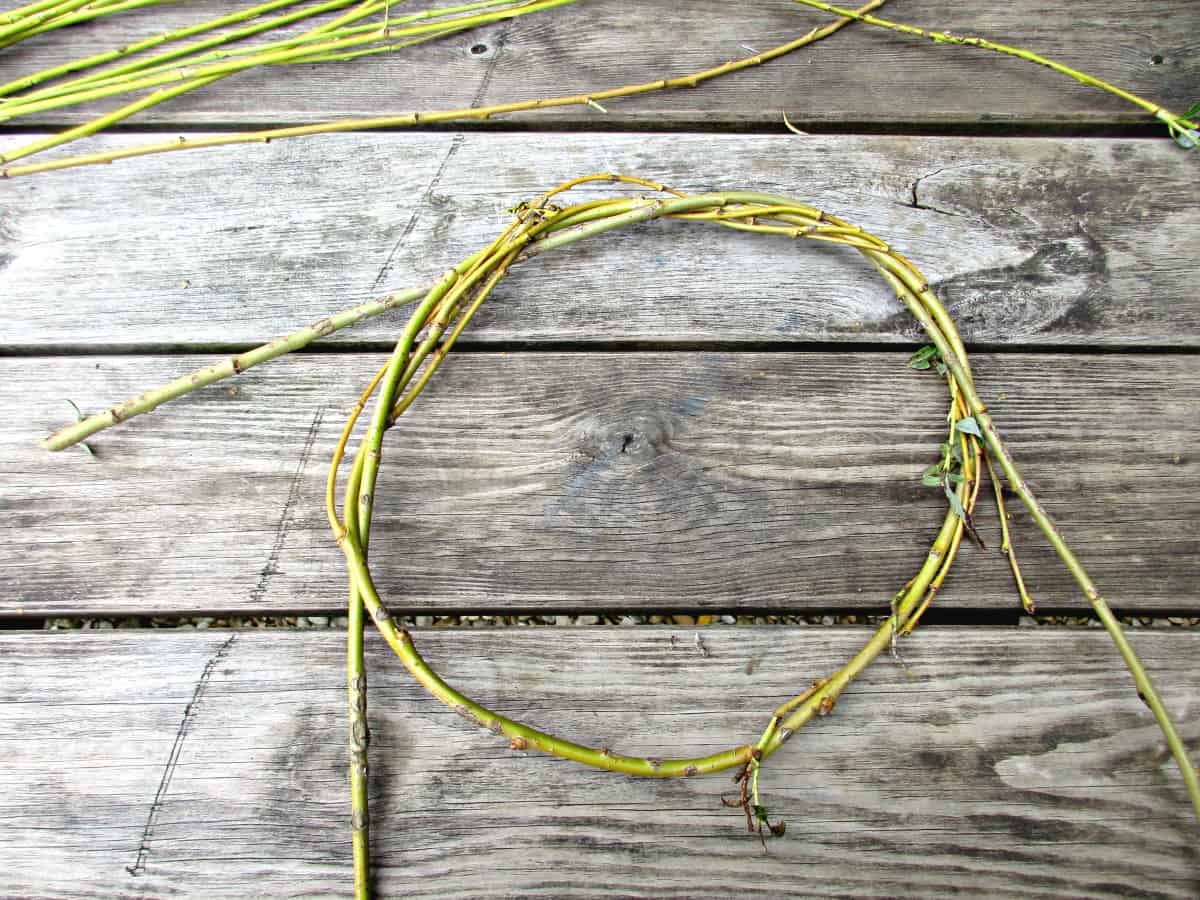 Continue turning your wreath and adding sticks. You will find that the willow wreath becomes rigid and takes shape very quickly.
This photo shows our wreath after we have added, and woven in, the third stick.
Note: If I am making flower crowns I stop at this stage.
As you add more sticks, you will find that the wreath holds itself together under tension, and it'll be easy to tuck in the smaller ends as you weave.
The tails will start to lie flat and incorporate into the wreath as you add more sticks. Don't worry about any that continue to stick out, as these can be trimmed off at the end.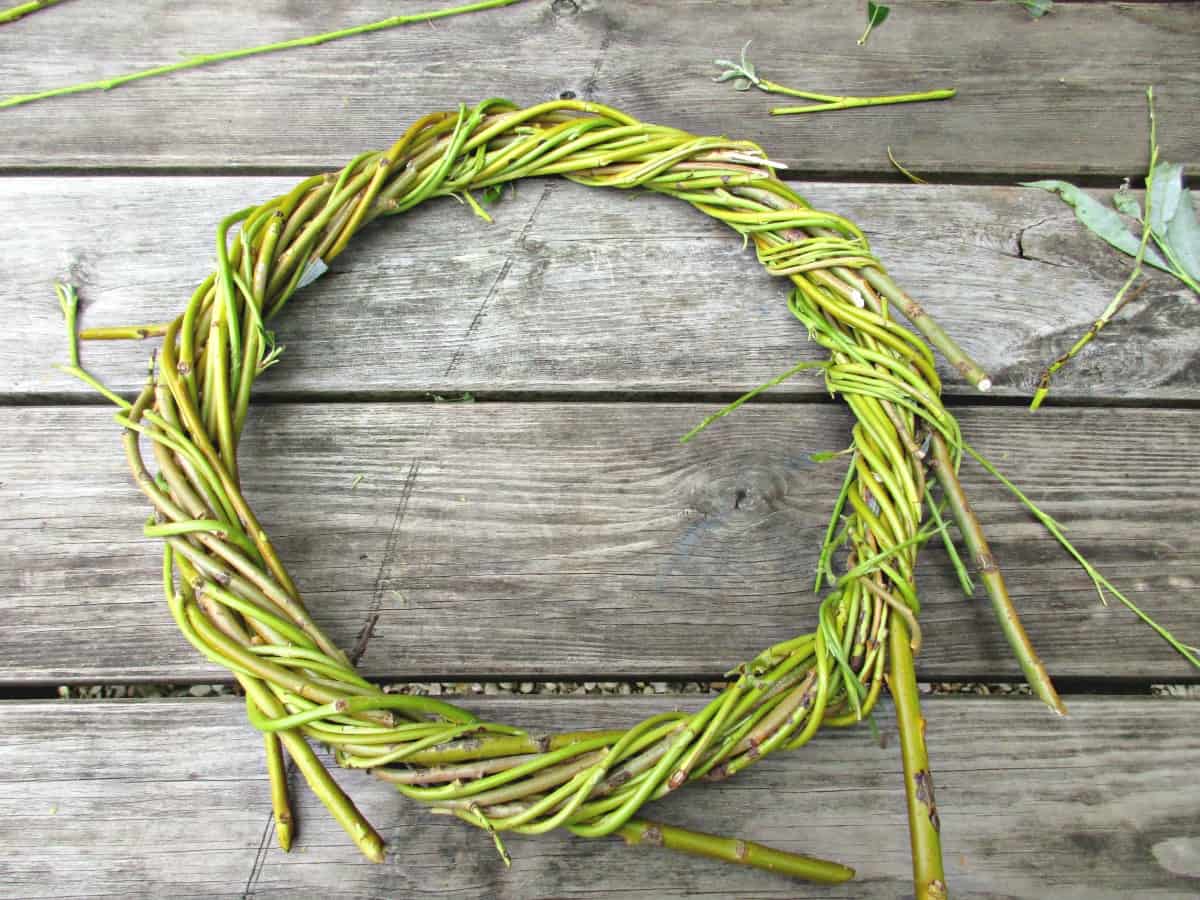 When you are happy with the size of your wreath, trim off any tails and stragglers, using a pair of secateurs. Add a final couple of sticks to the wreath, this time tucking both ends into the weave, to give a neat finish.
Stand back and admire your handiwork!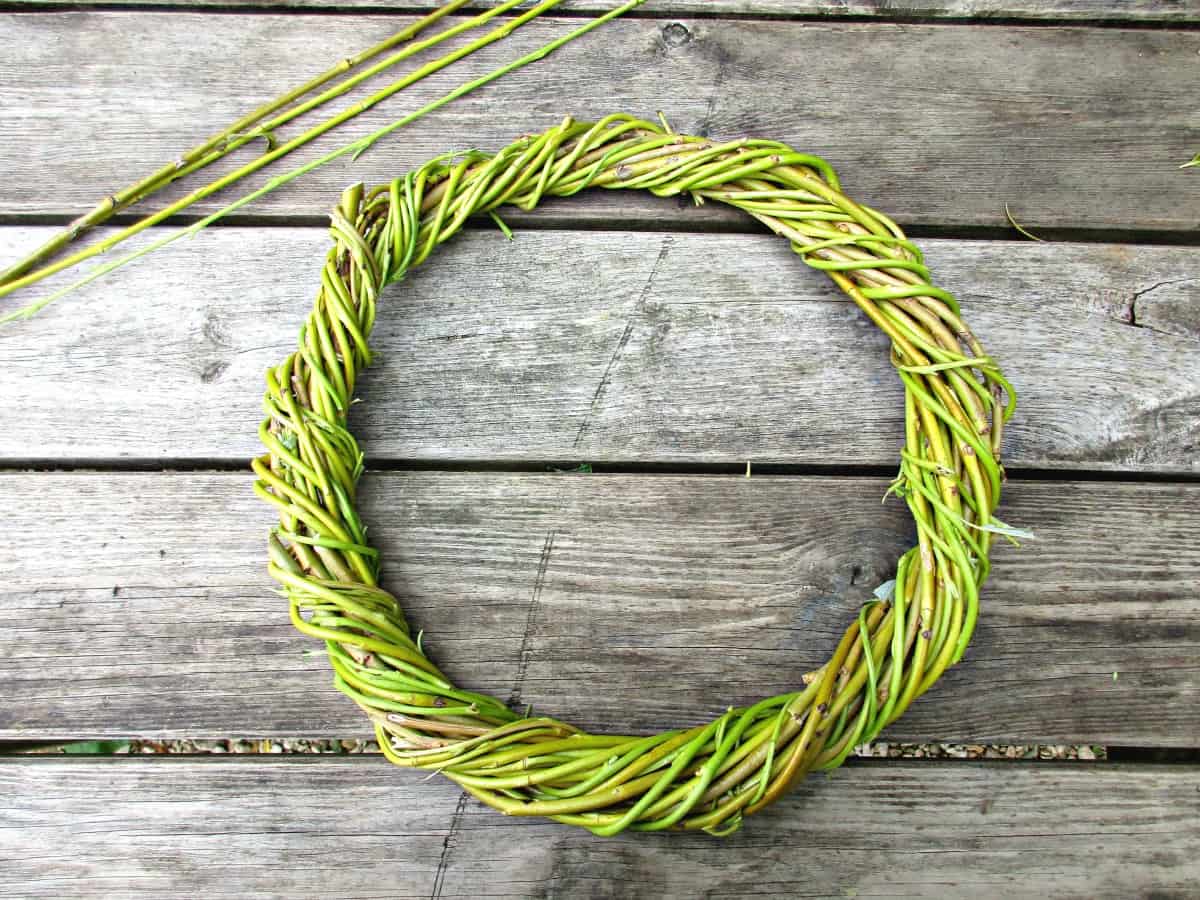 How to use your willow wreath
Use your DIY willow wreath in it's fresh, green state or dry it to use in future projects.
The willow wreath base will darken over time as it dries. Kept in dry conditions it should last for many years.
Ours is currently hanging in our shed drying out, while we decide what we are going to use it for.
Willow is a brilliant, free craft material that is so easy to use. Over the past few years we have made hundreds of willow flower crowns with children at festivals we volunteer at. They literally take minutes to make, and look gorgeous.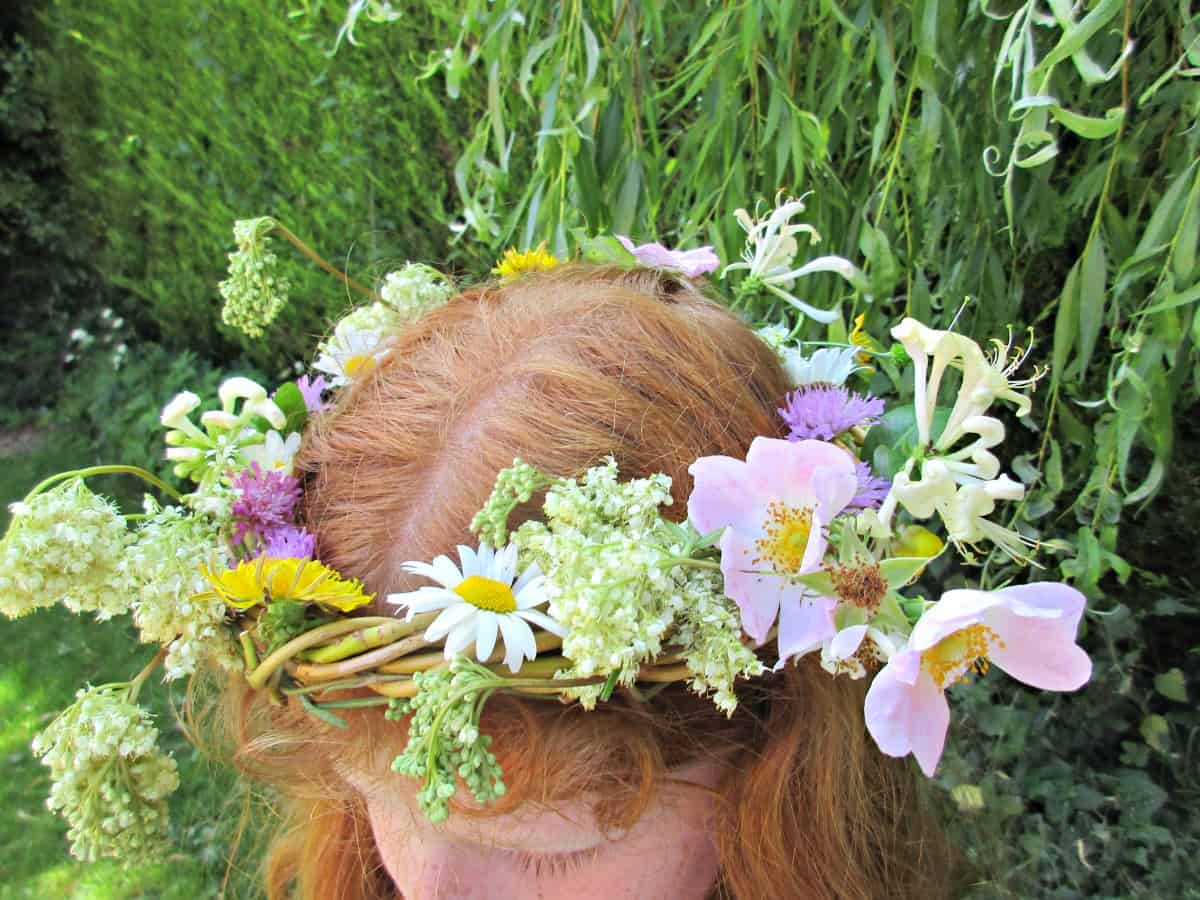 If we've inspired you try out some crafts using willow, check out the selection of some of our favourite willow crafts at the bottom of this post.
This willow cone is simple to make and can be used as a base for all sorts of crafts as well as making a wonderful, rustic plant support for the garden.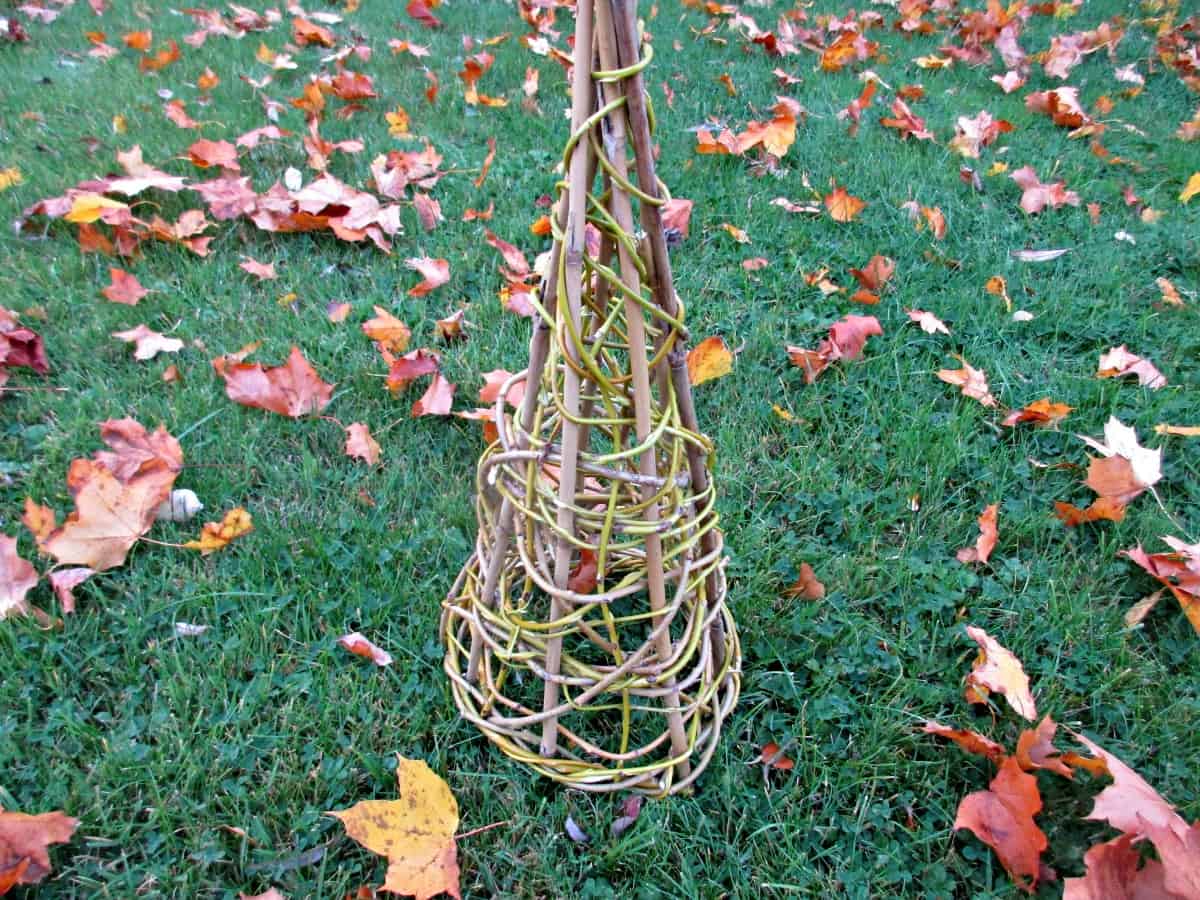 Willow Balls are really simple to make, and are a lovely rustic ornament that can be used in a number of ways.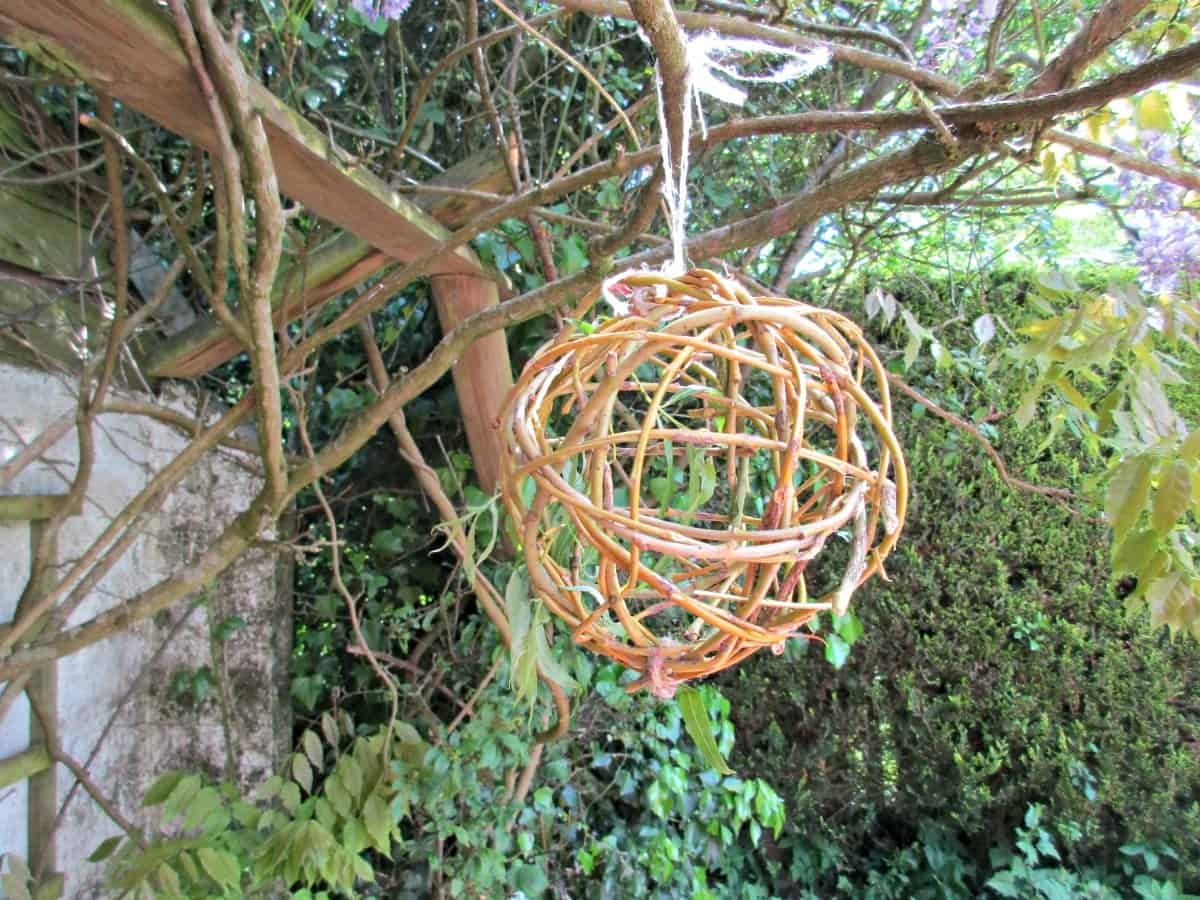 In this simple tutorial, we show you how to weave a beautiful, rustic willow crown which you can then decorate with flowers.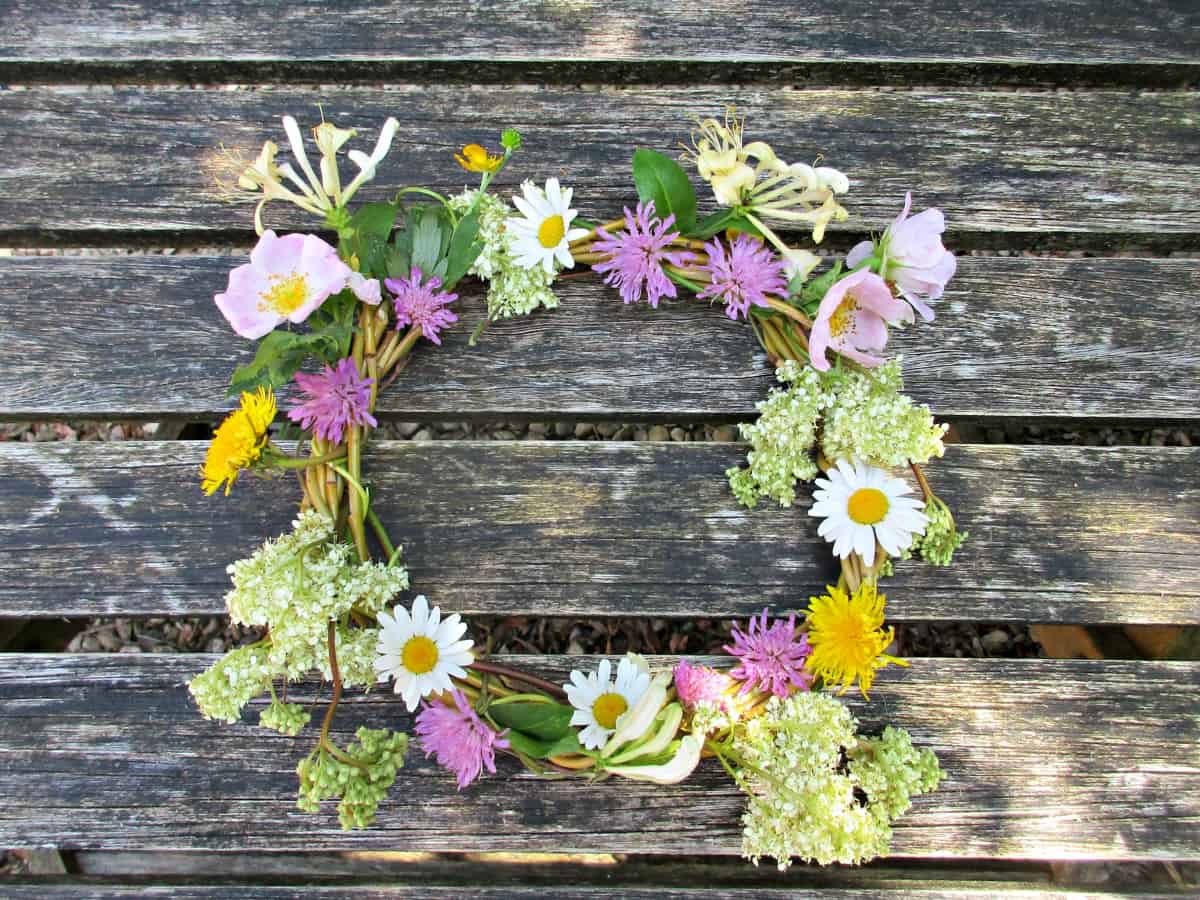 We turned our simple home-made willow cone into a wonderful Succulent Christmas Tree.
This wonderful centrepiece can be used both in the house and garden, and would also make a fabulous original gift.