I repurpose a pair of mouldy old terracotta strawberry planters into two gorgeous succulent pots planted with a mixture of drought loving sedums and Sempervivums.
These terracotta strawberry planters have been lurking empty in my garden for years. I have never managed to grow strawberries successfully in them; they always dry out and die. I finally decided I had to find a use for them or get rid, so I used milk paint to add a pop of colour before planting them with drought loving succulents.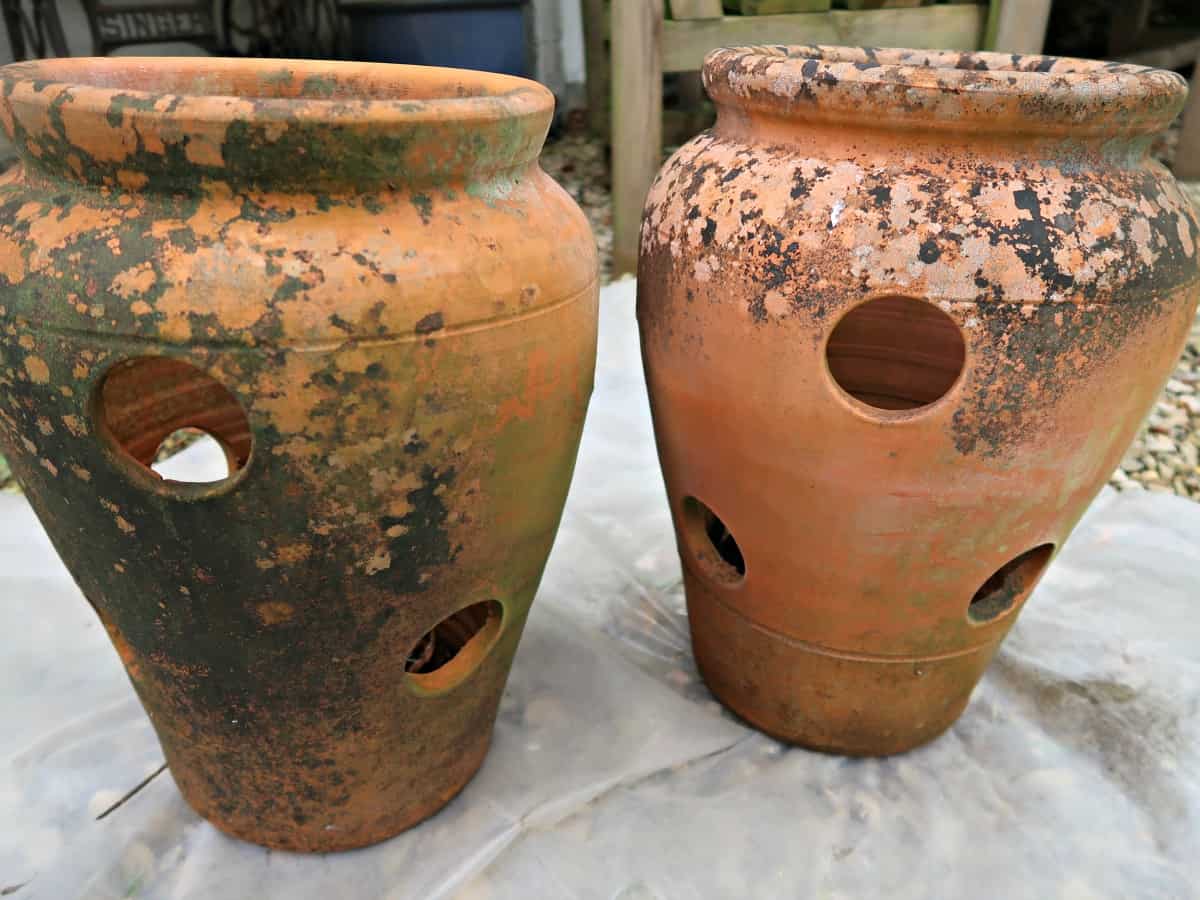 What is milk paint?
Old Fashioned Milk Paint ( Amazon Affiliate link) is a water-based paint made from milk protein, lime and clay with natural pigments added for colour. Milk paint contains only natural ingredients, so it is environmentally safe and non-toxic. It is perfect for children's furniture and toys, is food safe and ideal for those looking to reduce the level of toxins in their home.
Milk paint has been used for thousands of years. It is incredibly durable, often lasting for hundreds of years if protected from the elements. It sinks into porous materials and hardens over time, so will not peel or chip like many modern paints. Supplied in a powder form that is mixed water, milk paint can be used both as a colour wash using a thin coat or built up in layers to provide a solid matt colour with a velvety finish.
How to paint terracotta pots with milk paint.
My strawberry planters certainly have character. Years of sitting in a forgotten corner of the garden have allowed a patina of lichen and algae to grow on them. Although I do like the ancient pot look it was clear that painting straight on to a green slimy layer wasn't going to work out well, so I started by giving them a quick scrub with soapy water, before leaving them to dry.
You can see from the photo above that even after a scrub, they still have plenty of character.
I mixed up a portion of the milk paint with water and started painting.
The photo below shows what the strawberry planters looked like after one coat of the milk paint.
I decided to give the planters two thin coats of milk paint which still allows some of the patina to show through but also provides the blue with enough depth of colour to pop.
I left the strawberry planters overnight to dry, before planting them the next day.
Planting up the succulent pots.
Succulents are easy to grow as long as they have good drainage so they will love the conditions these strawberry planters provide.
Due to the weight of the terracotta planters, I decided not to add any gravel to my soil mix. Instead, I mixed vermiculite and compost to make my succulent soil.
I used a selection of trailing Sedum and Sempervivums to plant up the succulent pots. Most of them I bought for this project, but I did also grab a couple of cuttings from others I already have in the garden.
The pot grown succulents pushed into the holes of the strawberry planter perfectly. For the spots where I planted cuttings, I used stones to hold them in place and to stop the soil falling out while I wait for the plants to establish and fill up the hole.
And here are my fully planted succulent pots.
I love the pop of colour the milk paint gives against the foliage of the succulents.
As the plants establish, the sedums will trail down the pots, giving them a fuller look.
All the succulents I planted are winter hardy so these pots will be great for year-round interest.
For some other beautiful ways to display succulents in the garden, why not check out some of our other succulent projects. I've listed a few of my favourites below.
Easy step by step instructions to make a wonderful chicken wire sculpture shaped into a moss and succulent toadstool – a beautiful living garden sculpture.
The beauty of DIY concrete planters is they can be made in all sorts of shapes and sizes. Here we show you how to make cute little cement pots cast in silicone cupcake cases. These gorgeous cupcake planters are perfect for using as succulent party favours (if you can bring yourself to give them away), or as a unique table centrepiece.
Let us show you how to make an adorable hedgehog out of succulents and trash for your garden with our easy to follow tutorial.
This tiered succulent planter is simple to make using a cake stand rod set, and plastic pot saucers sprayed to look like stone.