We share our top ten provisions you can make to attract birds to your garden throughout the year.
Birds are amazing creatures. There are an estimated 10,000 different bird species globally; each one adapted to thrive in their local environment.
Despite the diversity of the species, all birds share three basic requirements that they need to survive; food, water and shelter – both from predators and the elements.
Read on to find out what easy changes you can make to attract birds into your garden.
We are delighted to be hosting this fab giveaway in collaboration with Happy Beaks. Win a beautiful wooden bird table and a massive bundle of bird food to keep your garden birds well fed throughout the winter.
How to attract more wild birds into your garden.
1. Plant native plants and let them seed.
Our number one tip for encouraging birds into your garden is to make space for native plants and allow them to complete their life cycle.
Native birds have evolved to feed both from native plants themselves, and the insects that they attract.
Many of the birds that visit our gardens eat a combination of seeds, fruit and insects.
2. Encourage insects (and avoid pesticides) in your garden.
Many of our garden birds feed on invertebrates.
Blackbirds are ground feeders who search out earthworms, snails and other insects.
Robins are the gardener's constant companion on the lookout for worms, beetles and spiders.
Among many other birds, Gulls follow tractors as they plough the fields while swallows hunt for insects in flight.
Many birds even use spider webs in their nest building, notably chaffinches and the pretty little long-tailed tit.
3. Plant fruit and berry trees
An autumn hedgerow dripping with berries is a beautiful sight, but have you ever wondered why those wonderful black and red fruits come in the colours they do?
Many plants use berries as a clever way to entice birds and other animals to distribute their seeds. So next time you pop a juicy blackberry into your mouth, think about all the other animals we share our habitat with who may also be doing the same.
Berry and fruit-bearing trees provide food for a range of insects and animals other than birds. Foxes, badgers, mice, squirrels and hedgehogs will all happily feed on them.
4. Provide Water
All living things need water, and birds are no exception. Birds need water both for drinking and bathing.
Water is critical during the winter when natural supplies may freeze and during hot weather when water can be hard to find.
Water is best kept in a shallow container, no deeper than two inches. Refresh it as often as you can and remove any ice during the winter.
Providing a safe, clean, regular water source for the birds in your garden year-round will help attract more wild birds into your garden. One way to ensure that birds can drink and bathe away from predators is to provide a hanging water bath in your garden.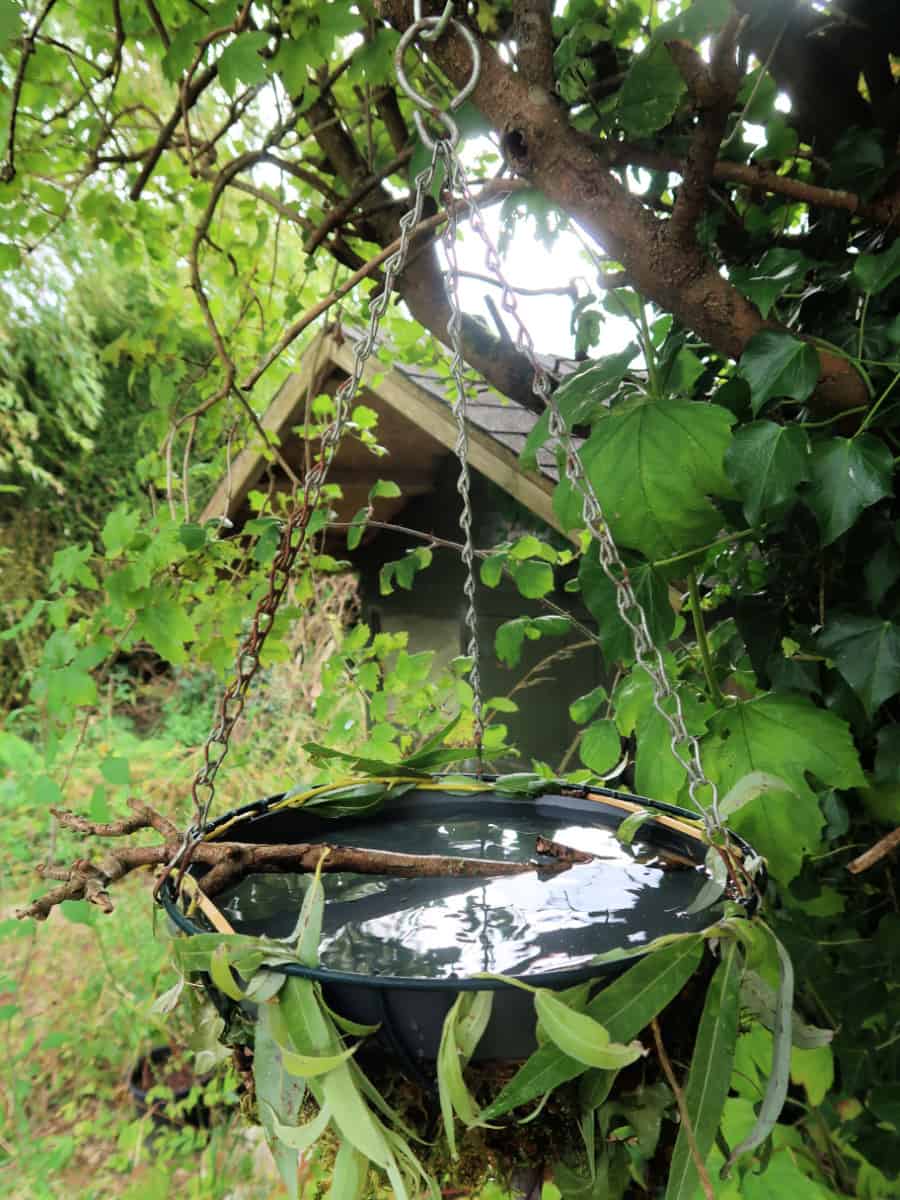 5. Leave dead trees and wild areas to provide cover for wild birds
All wildlife benefits from access to dead wood and wild areas in the garden. The habitat it provides for insects and plants will, in turn, provide more forage for your birds and small mammals.
6. Let some of your grass grow long (while keeping other areas short.)
Birds have evolved to take advantage of all different habitats, so the more variety in your garden, the more species of birds you'll attract.
Allowing grass and meadow flowers to set seed will provide much-valued food for many birds. Longer grass also provides shelter and egg-laying opportunities for the insects on which birds and other wildlife feed.
Other birds, however, appreciate short grass when foraging for worms, grubs and other insects.
7. Provide nesting spots and nest boxes
Another great way to encourage birds to your garden is by providing them with somewhere secure to nest. Hedges, trees and walls covered in vegetation are all habitats that birds love to nest in.
Adding nest boxes in sheltered areas of your garden will give the birds even more choice. Avoid positioning nest boxes in direct sunlight or where they will be affected by strong winds. Somewhere between north- and east-facing is best.
As well as using nest boxes to raise their young, many birds will use them to shelter from the elements.
8. Protect wild birds from cats
Cats are one of the biggest dangers to wild birds visiting gardens, and the cover that birds love can also benefit these predators. Using a bird table and positioning feeders in trees will help keep visiting birds out of reach. Siting nest boxes in areas inaccessible to cats will make them more appealing too. Cat collars with bells on is another tool that some people recommend.
9. Learn from your birds
Take the time to watch and listen to the birds in your garden. You'll soon spot which areas they love and the others that they avoid.
Birds will alarm call if they perceive a threat; often, they will spot a cat or sparrowhawk well before us humans do.
10. Feed the birds in your garden.
Feeding wild birds is one of the simple pleasures in life. Not only do the birds benefit hugely from the extra nutritional support, but they are also lovely creatures to watch.
Spending a few minutes each day watching them flit to and from a feeder is a great way to relax as well as learn a little more about our delightful wildlife.
We have made home-made bird feeders in the past. Our willow ball bird feeders hang in the trees away from predators. The birds love them, but they are not readily visible from the house.
This DIY window bird feeder brings the birds in close and gives us a fantastic view of them as they feed.
Although winter is considered the most critical time for feeding birds, they benefit from being fed all year round. In an ideal world, your local environment would contain lots of natural bird food in the form of insects and seed heads. Still, birds can experience episodes of food shortage at any time of year and often appreciate any supplementary food provided.
Terms & Conditions

This competition is open to UK mainland residents aged 18 or over.

No purchase is necessary to enter this competition.

The promoter is Happy Beaks, part of the BVG Group, Brecon Enterprise Park, Brecon, LD3 8BT.

The Competition opens at 12 noon on the 1st September 2021, and closes at 12 noon on 22nd September 2021. Entries received after that date and time will not be considered.

Employees or agents of Happy Beaks and related brands – BVG Group, their families or other persons connected with this promotion are not eligible to enter.

To enter the Competition you must use the Rafflecopter widget supplied. To further increase the number of times you are entered into the competition, you also have the option to:

-Subscribe to Happy Beaks exclusive email offers.

-Tweet about the giveaway

-Visit the Happy Beaks Facebook page

-Follow Happy Beaks on Twitter

-Follow Happy Beaks on Instagram

-Visit the Craft Invaders Facebook Page

-Follow Craft Invaders on Instagram

-Follow Craft Invaders on Twitter

These are all extra voluntary options, and are not mandatory conditions of entry.

There will be one winner randomly selected who will receive the prize of bundle prize of:

Entries on behalf of another person will not be accepted and joint submissions are not allowed.

The winner will be chosen from a random draw of correct entries.

The winner will be notified by email within 30 working days of the closing date. If a winner does not respond within 3 days of being notified, then the winner's prize will be forfeited and Happy Beaks shall be entitled to select another winner.

If a winner rejects their prize, then the winner's prize will be forfeited and Happy Beaks shall be entitled to select another winner.

The Prize is non-exchangeable, non-transferable, and is not redeemable for cash or other prizes. Happy Beaks retains the right to substitute the Prize with another prize of similar value in the event the original prize offered is not available.

Happy Beaks may request that the winner participates in publicity arising from the Competition. The winner is under no obligation to participate and may decline this request. Participation is at the winner's discretion.

If you agreed to sign up to our mailing list, you are agreeing to receive occasional emails and catalogues from Happy Beaks, from which you can unsubscribe at any time. This is a voluntary entry method, and not a mandatory condition of entry.

By submitting your entry, you agree to be bound by these terms and conditions.

Happy Beaks accept no responsibility for any damage, loss, liabilities, injury or disappointment incurred or suffered by you as a result of entering the Competition or accepting the prize.

All entries must be made by the entrant themselves. Bulk entries made from trade, consumer groups or third parties will not be accepted. Incomplete or illegible entries, entries by macros or other automated means (including systems which can be programmed to enter), and entries which do not satisfy the requirements of these terms and conditions in full will be disqualified and will not be counted. If it becomes apparent that an entrant is using a computer(s) to circumvent this condition by, for example, the use of 'script', 'brute force', masking their identity by manipulating IP addresses, using identities other than their own or any other automated means in order to increase that entrant's entries into the promotion in a way that is not consistent with the spirit of the giveaway, that entrant's entries will be disqualified and any Prize award will be void.

Happy Beaks reserves the right at any time and from time to time to modify or discontinue, temporarily or permanently, this Competition with or without prior notice due to reasons outside its control. The decision of Happy Beaks in all matters under its control is final and binding and no correspondence will be entered into.

Happy Beaks reserves the right to disqualify entries if it has reasonable grounds to suspect that fraudulent entry has occurred.

Happy Beaks shall not be liable for any failure to comply with its obligations where the failure is caused by something outside its reasonable control. Such circumstances shall include, but not be limited to, weather conditions, fire, flood, hurricane, strike, industrial dispute, war, hostilities, political unrest, riots, civil commotion, inevitable accidents, supervening legislation or any other circumstances amounting to force majeure.