In this easy tutorial, I show you how to make a wildflower wreath from foraged materials you can gather yourself. This flower wreath is quick and easy to make and looks gorgeous, hung on a door or used as a floral centrepiece.
Wildflower wreaths are such a pretty way to celebrate summer. They are easy to make from foraged materials, including the base, so you can collect everything you need on a walk.
Wildflowers tend to be short-lived once picked. This summer wreath will wilt and fade in colour quite quickly, so it's perhaps better suited to making for a particular event rather than leaving on your door for weeks.
Gathering the materials for a wildflower wreath.
There are two elements to this wildflower wreath: a natural wreath base and the flowers themselves.
I decided to use a long, young bramble stem to make my wreath base. Bramble is excellent for all sorts of weaving due to its flexibility and strength. It does, however, have one disadvantage; it's vicious thorns.
I recommend wearing gloves to cut bramble stems and remove the thorns as you cut them. Once the shoots have been de-thorned, working with them is easy.
If you want a more substantial wreath base or are making a flower crown, willow is another excellent choice. You can find step by step instructions for weaving a willow base in our how to weave a beautiful willow crown tutorial.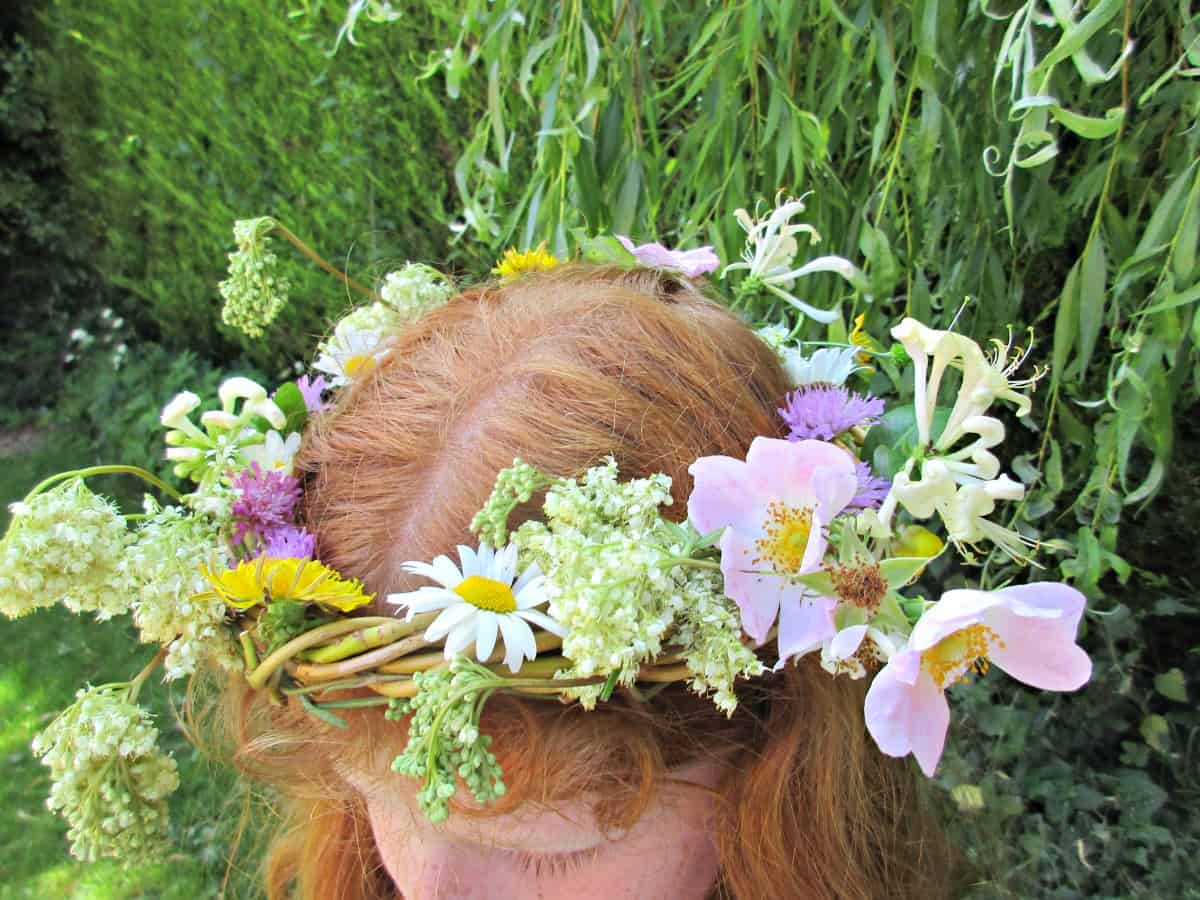 It is perfectly legal to collect wildflowers on a public right of way as long as they are not a protected species. I would always recommend picking those that are firstly abundant and secondly that you can identify. Some plants can irritate on contact, but you shouldn't have a problem if you know what you are picking.
I gathered cow parsley, buttercup, ox-eye daisy and red clover to use on my wreath.
How to construct a wildflower wreath.
In addition to the gathered plant material, you will need some gardening twine and secateurs to complete this project.
Start by weaving the bramble stem into a hoop. I also wound around some long grasses that I liked.
Separate the wildflowers into smaller mixed bunches of flowers. You will need 8-12 sets depending on the size of the base and how full you want to make the wreath.
Tie each bunch with garden twine using enough string also to tie the bunches to the wreath frame.
Tie the first bunch to the wreath base.
Add the second bunch, overlapping the first as shown in the photo below. The aim is to cover the string and stems of the previous one.
Continue adding the wildflowers until the wreath frame is covered.
When you have attached all the flower bunches to the base, turn upside down and cut off any excess stalks and string to tidy up the finish.
Hang up and admire or use as a pretty table centrepiece. Wildflower wreaths look gorgeous with a glass bowl placed in the centre of them.
For more seasonal wreath inspiration, check out the following tutorials.
In this step by step tutorial, I show you how to make an easy acorn and pinecone wreath using a grapevine wreath base and nature finds found out on a walk.
I show you how to cut a star wreath form from floral foam easily, and decorate it with fresh foliage to make a stunning star wreath to hang on your front door.
Our DIY Easter egg wreath is decorated with speckled quail eggs, lichen and flower sprigs for the perfect spring door décor. Utilizing a willow base, this spring wreath only takes a few minutes to assemble and looks beautiful, hung on a front door.