I show you how to cut a star wreath form from floral foam easily, and decorate it with fresh foliage to make a stunning star wreath to hang on your front door.
Have you ever seen a star wreath before? Can it even be called a wreath if its in the shape of a star?
This year I've gone rogue and made a star-shaped wreath for our front door. Its made with all the foliage I'd put in a traditional fresh Christmas wreath, but using a star wreath form made out of floral foam.
What you need to make a star wreath.
I used floral foam to make my star-shaped wreath and came up with a super simple way to mark out my star.
All you need is
1 round floral foam pad (mine is 15 inches in diameter)
A piece of string or yarn
Marker Pen
Knife
Short length of wire to hang the wreath
My star wreath has five points, but you can use this method for six, seven and eight-point stars too. I will explain the slight differences in marking them out when we get to that stage.
How to mark out the star shape.
Take a piece of string and wrap it around the floral foam pad. Cut it, so it fits around the pad exactly. This string is now the same measurement as the circumference of the foam.
To make a 5 pointed star, fold your string into five equal pieces. If you want more points, you will need the corresponding number of folds.
Once you have folded the string into equal pieces, mark the loops with a marker pen as shown in the photo above. You can now use this measure to mark out the points for your star-shaped wreath.
The floral foam that I've used here has two layers. The top layer is soft so you can push your arrangement into it while the base layer is stronger and holds everything together. I worked on the base layer as it is more robust for drawing on.
Wrap the string back around the floral foam, and mark each point onto it.
To draw a 5 (or 6) pointed star join up every other mark with a straight line. For 7 or 8 pointed stars you skip two marks, joining up every third mark.
Cut away the unwanted pieces of floral foam to reveal the star-shaped form.
How to hang the star wreath.
It is much easier to add a loop to for hanging the star wreath before adding any foliage.
The base layer of the floral foam is most durable, so this is where you should attach the loop. (I'm still working upside down).
I used a skewer to make a hole and threaded some rustic wire through it to form my loop.
It is also worth checking that the star wreath form hangs properly now before you go any further.
Once you have finished preparing the star wreath form, soak it in water for a few minutes before decorating it.
How to decorate a star wreath
Collect a selection of evergreen foliage for decorating the star wreath. I used Holly, Ivy, Pine, Rosemary, Rose-hips, Teasels, Feathers and a couple of other bits.
Remove the leaves from the portion of the stem you will insert into the floral foam. Cutting the tip at an angle also makes it easier to push in.
I started by filling in the points of my wreath and made each one similar to keep the star balanced.
I managed to find Holly this year with berries on it, but if you don't Rose-hips make a great substitute and are much more robust.
Once I had completed each of the points, I filled in the centre of the wreath.
And here is my completed Christmas star-shaped wreath.
It now hangs proudly on our front door.
I'd love to hear what you think of our star wreath.
Would you hang one on your door?
Or do you think wreaths should always be the traditional ring-shaped?
If you have enjoyed our wreath tutorial, why not check out some of our other quirky Christmas ideas. You can find a list of our favourites below.
In this step by step tutorial, I show you how to make an easy acorn and pinecone wreath using a grapevine wreath base and nature finds found out on a walk.
Our Twig Chandelier makes a beautiful ceiling Christmas Decoration. Check out our video tutorial to see exactly how we made it!
Colourful, recycled gift bows made from old magazines are super simple to make and look just as fabulous as anything you might buy in the shops.
You will not believe how easy it is to make this Stunning Woodland Table Decoration. Made from an old barbecue grill, cardboard and glue and then decorated with candles, twinkly lights and lots of natural elements, we think it is the perfect centrepiece for Christmas or any other celebration.
This wonderful Succulent Christmas Tree centrepiece can be used both in the house and garden, and would make a fabulous original gift.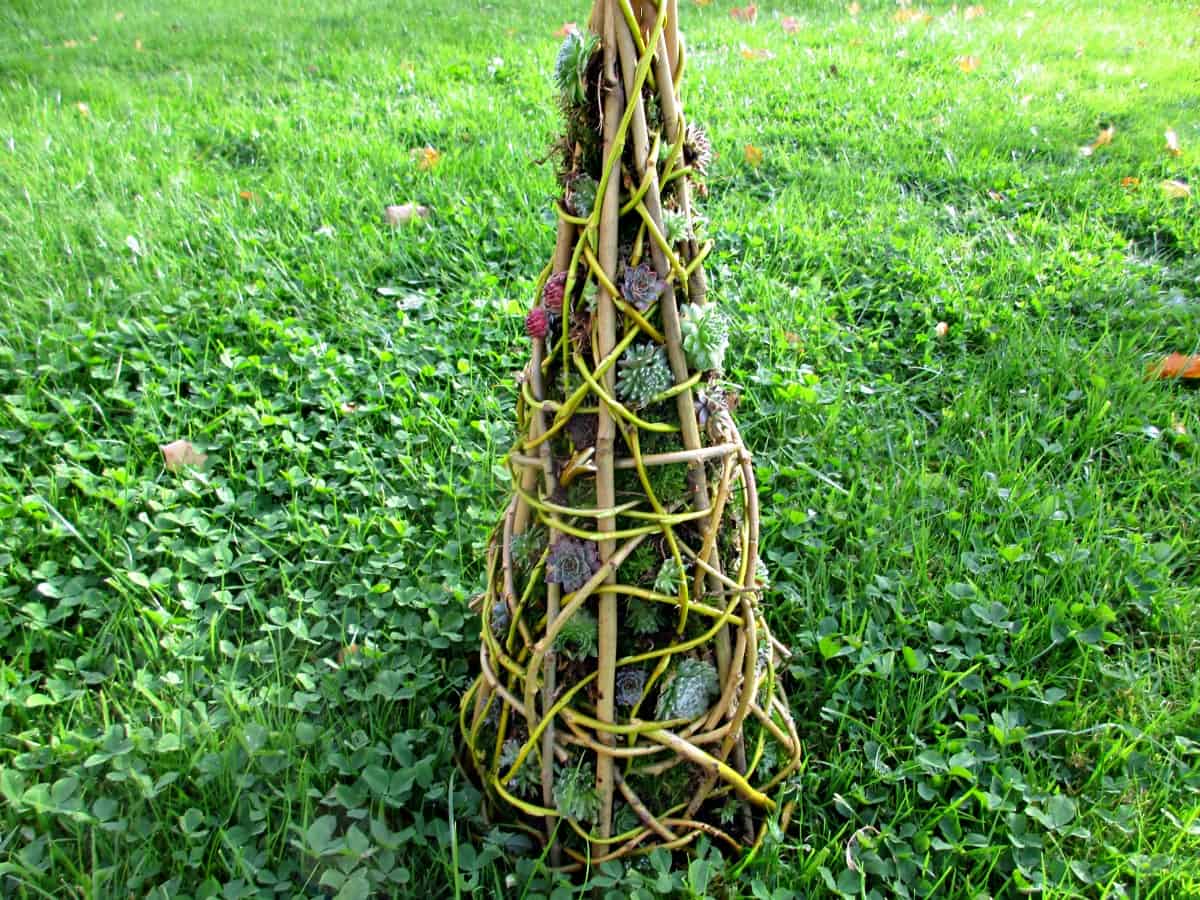 We test out how to bleach pine cones at home. Does it really work and how long does it take? We have all the answers here! See our bleached pine cones turned into a beautiful centre-piece.