I have no idea who first came up with the notion of seed bombs, but in the last couple of years I have seen numerous mentions of them as a tool for 'Guerrilla gardening'. Guerrilla gardening is the act of planting on land that you don't legally have access to such as private property, abandoned sites, and other neglected areas such as roadsides and roundabouts.
To be clear, the kids and I aren't planning to take up breaking and entering, or any other illegal activity, and we don't suggest that you do either! We do, however, see the benefit of spreading a few wildflower seed bombs about the place to support our native species.
There are a number of commercial wildflower seed bombs on the market now, but it is far cheaper and much more fun to make your own. We made ours using household flour, seed compost and native wildflower seeds. We bought our seed from the garden centre, but you could also collect your own. You can check out our six reasons to gather your own seeds post here.
What you need to Make Wildflower Seed Bombs
Household Flour
Compost
Wildflower seeds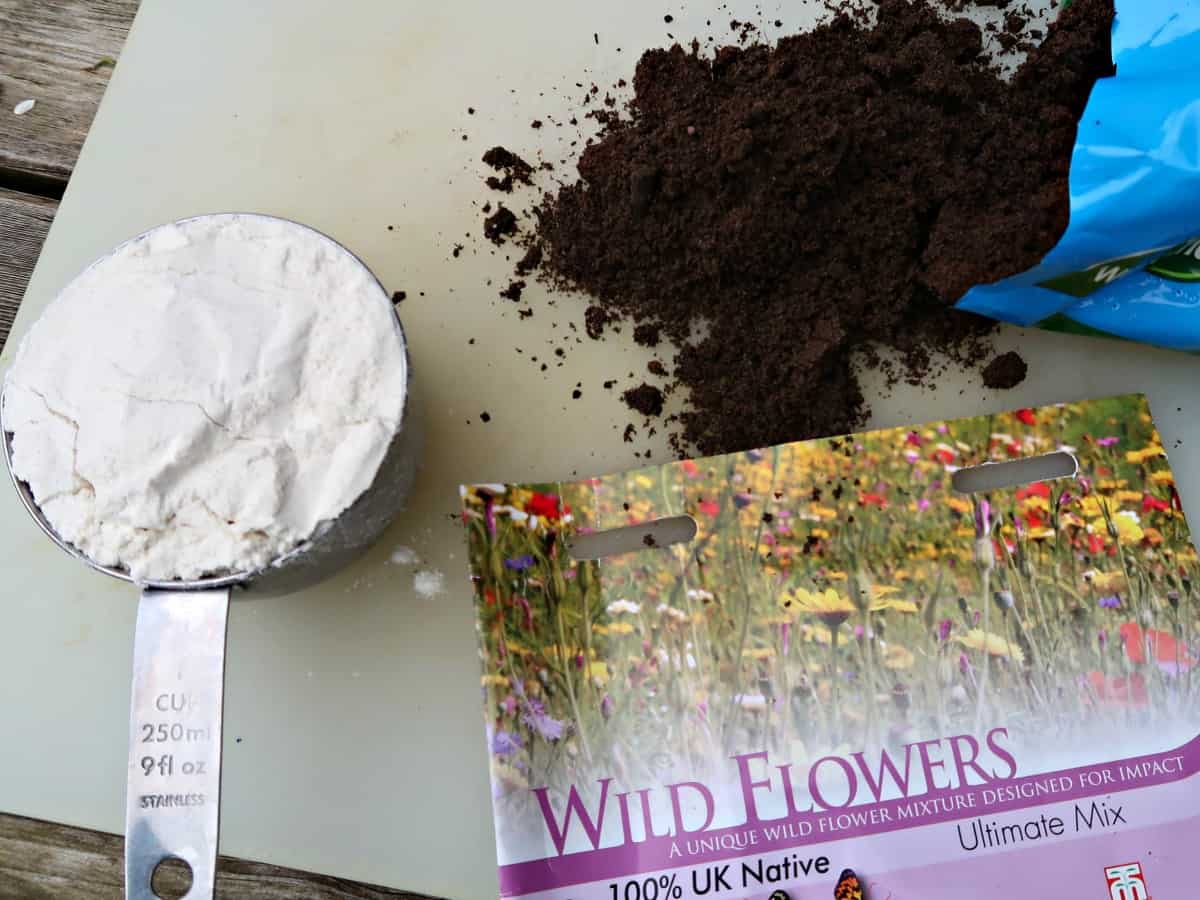 How to Make Wildflower Seed Bombs
We used the ratio of one cup of flour to 3 cups of compost and combined it well before adding our seed.
Once we had added our seed, we tried to handle it gently so not to damage any of it! We added just enough water so that the mixture would hold together.
And then formed our little seed bombs making them about the size of a marble. Which we then left to dry out for 24 hours.
Once dry stick a handful in your pocket, get outside and start looking for an unloved corner of your neighbourhood that would benefit from a splattering of wildflowers.
Alternatively, sprinkle them on top of a few pots in the garden to grow your wildflower meadow. Before it is due to rain is a perfect time to throw your seed bombs.
For more gardening craft inspiration check out our Plantable Seed Paper Cards and our Beautiful Spring Bulb Lasagne.